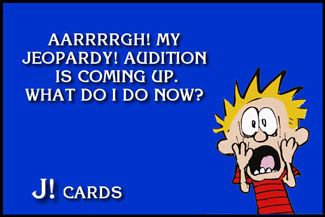 Jeopardy! audition season is upon us, which means that comments and questions about auditions are already flowing on the board. Having been there, i.e. nailing an audition, and having participated in several of these threads over the years, I thought it would be valuable now to take the discussion a step farther. So......
Next Thursday evening (5/29), JBoard's own Dr. J and I will be hosting a live, interactive, open-to-all, and

free

webinar on the "Jeopardy! Audition Process and How To Prepare For It." You know Dr. J., a.k.a. Stephanie Jass, 7-time super champion and TOC semi-finalist during season 29, and frequent contributor on the board.

WHEN: Thursday, May 29th, 5:00-6:00 pm Pacific, 8:00-9:00 pm Eastern
(If it runs somewhat over an hour, then so be it.)
WHERE: You'll be able to attend either online or via phone
HOW DO I SIGN UP: http://jeopardyaudition.com/

If you have an audition coming up, are hoping (praying) to have an audition coming up, or are just interested in the process, this webinar is for you. (And it's no secret that learning how to prepare for a Jeopardy! audition also prepares you for many other life situations.)
When you sign up -- double opt-in, btw -- you'll be sent specific instructions on how to login, how to submit questions in advance that you'd like us to address, and I also hope to have a handout available that you can download prior to the webinar. You'll also be able to interact with us and ask questions during the webinar. (Yes, real voices and real-time texting.)
Submitting your questions in advance is preferred, as there's a much better chance of their being addressed.
Seating is limited during the live event, but I'm giving my fellow boardies dibs before I start posting notices elsewhere.
A replay of the webinar will be available immediately afterwards, so even if you can't attend the live event, sign up now and you'll have access to the replay at a more convenient time for you.
I hope that you'll find this helpful, and If all goes well -- or even if it doesn't this time -- we plan to have additional webinars on related topics in the coming months.
Again, follow this link to register:
http://jeopardyaudition.com
Cheers,
Randy
P.S. If you've had experience with online webinars before, the platform I'm using (InstantTeleseminar) is browser-based, so there will be no need for you to download any software prior to the event. Yay! It might also work on tablets and smart phones, but I can't guarantee either. If attending via computer is a problem, then calling in is the better alternative.